An exciting walk through the Punk-, Rock- and Club-Music Scene from Prenzlauer Berg to Mitte district in former East-Berlin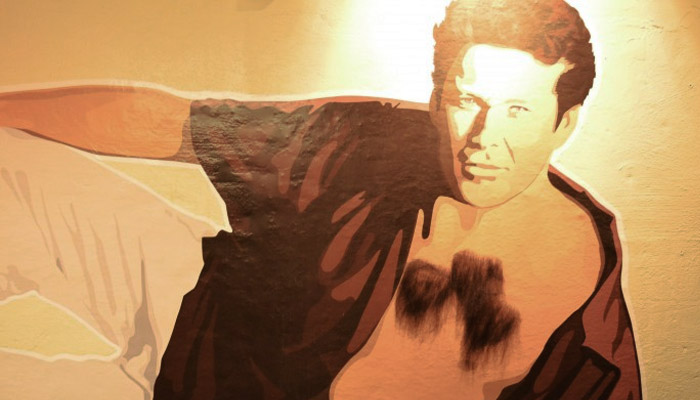 From Kesselhaus/ Kulturbrauerei to David Hasselhoff Museum at Rosenthaler Platz
Topic
During this walk we discover Prenzlauer Berg and walk down to Mitte district. We start in front of "Kesselhaus" on inner court yard of Kulturbrauerei Berlin Prenzlauer Berg and head over to Kastanienallee and Zionskirchplatz, crossing Schönhauser Allee and Torstraße, pass little alleyways in Mitte district and finally end the tour at Rosenthaler Platz.
There will be lots of watching and walking - please bring good shoes/ no flip flops!
Many german artists and also various international musicians left their footsteps in this neighbourhood and are part of the tour:
Rammstein, Beatsteaks, Modeselektor, Nina Hagen, Paul Kalkbrenner, Seeed, Sido, Wim Wenders, Ritchie Hawtin, Apparat, Ellen Alien, Westbam, Fran Healy of Travis, MIA., Maximilian Hecker, Wir sind Helden, Peter Fox and many more.
The Walking Tour deals also with very young and fresh bands and musicians coming to Berlin currently to try out their luck. Many careers started already "on the streets" - so keep your ears and eyes open during the tour!
Kesselhaus
Our meeting point - Kesselhaus - a former boiler house inside the old Berlin "Schultheiss" brewery in the 1850's – nowadays is one of the most important concert locations in the city. Reams of bands and artists have played here like Rammstein, The Hives, The Killers, Laibach, Green Day, Kaiser Chiefs, Linkin Park, Leningrad Cowboys, Paul van Dyk, IAMX and many others.
On the road
We check out Zionskirche (Church of Zion) from a musical point of view and have a look at Berlin Punk Rock Lady Nina Hagen's old apartment and neighbourhood. Club legends like Kaffee Burger or former clubs like White Trash Fast Food, the Eimer or Delicious Doughnuts (home base of Berlin's famous Jazzanova collective) are documented - many good clubs in this area have been kicked meanwhile and turned into something "very chic".   

Of course we don't want to give away the whole tour route and content, but we also talk about the massive house squatting scene in the early 90's in this area after the Berlin Wall came down and the colourful Punk Rock Scene in former East-Berlin. Out of this scene for instance Rammstein were formed.

As a total contrast to the subculture in former East-Berlin we end the walk at the HASSELHOFF MUEUM inside Circus Hostel located at Rosenthaler Platz with a free drink and entrance inside the museum. That's Pop-Trash at its best - and of course THE HOFF brought down the Berlin Wall - no doubt about it!

Please note that this Walking Tour has no connection to David Bowie, Iggy Pop, Depeche Mode, U2, Nick Cave or Hansa Studios – check out menu item TOURS and find our Special Tours or HANSA STUDIO TOUR or BUS TOUR there.
Also there is the beloved BOWIE BERLIN WALK in english available, a relaxed Walk through David Bowie's Berlin, running usually during the weekends and on extra dates by request.
We can also design extra Walking Tours for you or your customers by request, please find more info under 
PRIVATE TOURS
.

East-Berlin Music Walk
Start

Kesselhaus/ Kulturbrauerei Prenzlauer Berg

Transport

U Sta. Eberswalder Straße (U2 Subway Line)

Duration

about 2 hours

End

Hasselhoff Museum at Rosenthaler Platz (U Sta. Rosenthaler Platz, U8 Subway Line)

Dates

on selected tour dates, extra (group) tours up from 5 people by request & availability

Price

Price 19 EUR each/ pp including free drink & entrance at Hasselhoff Museum, group tours up to 25 people maximum, individual tours are possible, small groups 5-10 people = 190 EUR